Obama, GOP argue past each other on campaign finance
In his weekly radio address, Obama berates Republicans for blocking campaign 'reform and transparency.' Senate Minority Leader Mitch McConnell says it's all just a 'transparent effort to rig the fall elections' in Democrats' favor.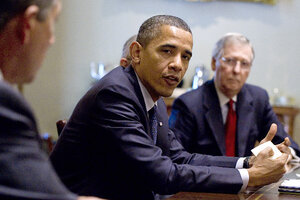 Newscom
"Money is the mother's milk of politics," Jesse Unruh, the "Big Daddy" of California politics, said many years ago, and it's still true today.
According to the nonpartisan Center for Responsive Politics, the 2007-2008 election cycle was fueled by $5.8 billion in itemized contributions to state and federal campaigns. House and Senate races this year are projected to cost $3.7 billion, according to the center, most of it from businesses, unions, political action committees, and other special-interest groups.
Former US Senator Ernest F. "Fritz" Hollings (D) of South Carolina recently made an important (and scary) point about the poisonous nature of this political mother's milk:
"In my last race in 1998 to be elected the seventh time to the United States Senate, I had to raise $8.5 million," he wrote. "That factors out to $30,000 a week, each week, every week, for six years. You don't start collecting money the year before your re-election date. Rather, you are in constant fundraise mode."
---
Follow Stories Like This
Get the Monitor stories you care about delivered to your inbox.