Glenn Beck rally: A warning to Obama and Democrats?
There may have been some Democrats at the Glenn Beck rally Saturday, but even many of them aren't happy with the country's direction. Does the large turnout portend trouble for Democrats?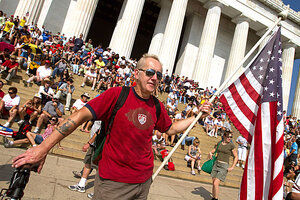 Newscom
Glenn Beck's "Restoring Honor" rally in Washington Saturday could not have been an encouraging sign for Democrats and the Obama administration.
The crowd was huge by any count – likely at least a couple hundred thousand people judging by aerial photos and the reported comments of some police officers – stretching from the Lincoln Memorial back to the Washington Monument.
And far from being a gathering of self-proclaimed rabble rousers carrying offensive signs insulting of President Obama, as has often been the case with "tea party" rallies spurred on by Mr. Beck, it was mostly a heartfelt and largely nonpartisan expression of civic concern, patriotism, and religious faith.
In other words, there may have been some Democrats in the crowd, but even they are likely not happy with the direction the country's taking, according to recent polls – including the policies and programs pushed by the majority party in Congress and the White House.
---