Election 2010: How bad is it for Democrats?
As the November midterm election approaches, it seems to be dire straits for Democrats. Obama and other party leaders will have to energize their base in order to turn it around.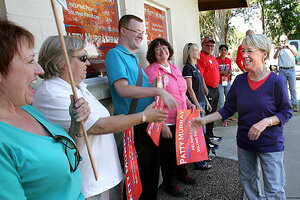 Richard Dickin/The Tri-City Herald/AP
A consensus is building that Democrats' chances of holding on to both houses of Congress – certainly with anything like the majorities they have today – are fast fading.
News story and polling headlines this past week paint a grim picture for Democratic lawmakers and therefore for President Obama:
"Americans Most Likely to Favor GOP Newcomers for Congress" … "Dems in power could be in peril, poll says" … "Fewer Young Voters See Themselves as Democrats" … "Dangerous Numbers for House Democrats" … "Republicans Hold Wide Lead in Key Voter Turnout Measure" … "Generic Ballot Continues to Suggest Major Losses for Dems" … "Democrats Plan Political Triage to Retain House"
Undoubtedly, there will be twists and turns (and probably some surprises) between now and when voters go to the polls Nov. 2. Eight weeks can be a political lifetime.
Plus, the "tea party" movement – showing extraordinary muscle in some recent Republican primaries – could be as much of a problem for the establishment GOP as it is for Democrats. And as John Dickerson at Slate points out, "The advantage for Democrats is that they have the better organization."
"Organizing for America, the Obama campaign operation, has been up and running for more than three years," he writes. "Some of the volunteers have been knocking on the same doors since Obama was just a freshman senator from Illinois running for president."
---
Follow Stories Like This
Get the Monitor stories you care about delivered to your inbox.