Senate passes small-business jobs bill, opening tax cut battle
The bill includes a $30 billion fund to increase access to lending for small businesses, and $12 billion in tax cuts. It also sets off debate on whether to extend the Bush tax cuts to more than the just 'middle class.'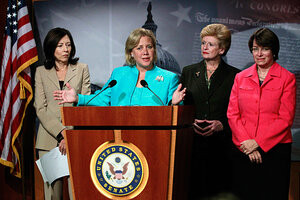 Manuel Balce Ceneta/AP
With midterm elections 47 days out, the last few weeks of Congress are all about jobs, especially those created by small business.
Two Republicans broke party ranks Thursday to give President Obama and Senate Democrats a victory on a long-delayed bill targeted to help the nation's small businesses get back to creating jobs. The House is expected to vote on the Senate version of the bill as early as next week.
"This legislation, which is very important, will help create a half-a-million jobs, it will leverage billions of dollars in lending to small businesses, and it will reduce taxes for small businesses. As soon as we get the bill, we will take it up," said House Speaker Nancy Pelosi, at a weekly briefing Thursday.
The bill, which passed 61 to 38, includes a $30 billion fund to increase access to lending for small businesses, $12 billion in tax cuts, increased loan limits, and a 90 percent federal guarantee for Small Business Administration loans.
Leading business groups, including the powerful US Chamber of Commerce, backed the bill, but most Republicans did not. "The problem is they're going about it the wrong way," said Sen. Orrin Hatch (R) of Utah, after Thursday's vote. "They tax too much, they spend too much, and they don't seem to understand the impact of growth of government."
"Unfortunately, the only jobs the policies of my colleagues on the other side of the aisle have created are government jobs," added Sen. Charles Grassley (R), during Wednesday's floor debate on the measure.
---