Joe Arpaio: Sheriff's star rises with 'tea party,' illegal immigration fight
Sheriff Joe Arpaio gains tea party support for sticking up for Arizona's tough law on illegal immigration. But he's in trouble with the feds for alleged noncooperation with their probe into his enforcement methods.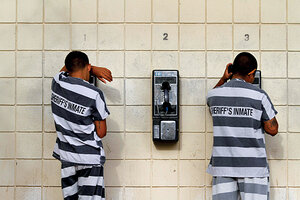 Joshua Lott/Reuters
At a "tea party" rally near the US-Mexican border this summer to showcase Arizona's tough immigration law and its advocates, Sheriff Joe Arpaio was introduced as someone who "will not back down, no matter which way they write it, no matter which way they say it."
He got a rock star welcome.
Both revered and reviled for his dogged pursuit of illegal immigrants in the Phoenix area, the veteran lawman from Maricopa County has long been a lightning rod in the American immigration debate. But since the passage of SB 1070, the controversial Arizona immigration law that is now in legal limbo, Sheriff Arpaio and his efforts have been infused with a new resonance nationwide. He has emerged as a key figure in the debate over whether states have the right to enforce federal immigration laws.
To admirers, Arpaio is a Goliath in the fight against illegal immigration.
"I support Sheriff Joe 100 percent," says Lynn Kartchner, who lives along the border in southeastern Arizona and likes Arpaio's "no holds barred" approach to law enforcement. "He does the job the federal government won't do."
Critics view the sheriff as an unabashed self-promoter whose law enforcement tactics infringe on civil rights and foster a climate of hate. "I think he's a clown" who has discovered that attacking Latinos brings visibility, says Alfredo Gutierrez, an activist and former state senator.
A magnet for controversy
Arpaio, who has been Maricopa's sheriff since 1993, is unapologetic even as his tactics attract legal trouble. He has enforced some immigration laws with the blessing of the federal government but has come under fire for pushing the limits of his authority.
---