Republicans' two-point plan to create jobs: Can it work?
Don't like what Democrats have offered so far to cure unemployment? Here's a look at the Republican plan to create jobs – and what economists think of it.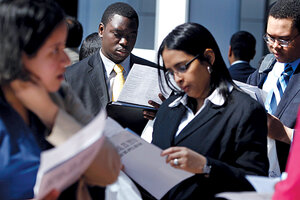 Shannon Stapleton/Reuters
Republicans in Congress are urging two simple steps they say will help put Americans back to work: Freeze all tax rates at current levels and reduce federal spending.
This is very different from what the Democrats have been pursuing, and in some ways it flies in the face of conventional economic theories. Cut government spending when the private sector is in slow gear? That's not what the textbooks typically offer as a way to rev up growth.
But these things are for sure: An improving job market is Americans' top election-season priority, and they're not happy with the status quo.
So how viable is that "two-point plan," espoused recently by House Republican leader John Boehner? Would it work?
Economists are divided on these questions, but fairly broad agreement exists on a few points. One is that it would be beneficial to provide clarity on tax rates – which the first part of the Republican plan seeks to achieve and critics say President Obama has failed to do. Another is that spending cuts hold less promise than tax-rate policy as a lever for job creation.
Supporters and critics of these GOP proposals concur on one more thing: Voters shouldn't expect a quick fix. Good policies can help the job market heal faster, but the process will still take several years, forecasters predict.
---