Bush tax cuts: Democrats punt until after midterm elections
Democrats say they will extend the Bush tax cuts for the middle class, but they are split about whether to extend them for the rich. So they'll make the decision after midterm elections.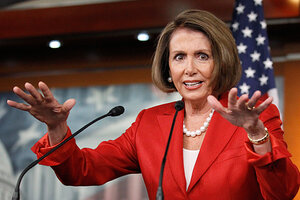 Manuel Balce Ceneta/AP
It's official. Democrats are putting off a vote on extending the Bush tax cuts, now set to expire on Dec. 31, until after the Nov. 2 elections.
Facing a revolt from moderates in her caucus, House Speaker Nancy Pelosi canceled votes on the issue Friday. Last week, 31 Democrats signed a letter urging the Speaker to extend the tax cuts for all Americans, including those in the top tax brackets. President Obama proposes extending the cuts only for middle-class families – that is, those that make less than $250,000 a year.
"We will retain the right to proceed as we choose and would take it one day at a time," Speaker Pelosi said Friday. "But … America's middle class will have a tax cut. It will be done in this Congress. There is no question about that."
On Thursday, Senate majority leader Harry Reid also announced that he is putting off a vote on extending middle-class tax cuts until after midterm elections. He blamed Republicans for failing to cooperate, but pledged to move the issue in a lame-duck session.
---