New Black Panther Party voter intimidation case: 'Bombshell' for Obama?
The Civil Rights Commission is investigating claims that the Justice Department inappropriately dropped an investigation into alleged voter intimidation by the New Black Panther Party.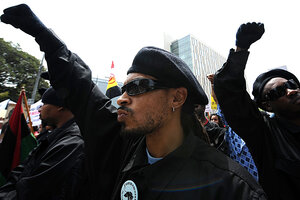 Gabriel Bouys/AFP/Newscom/file
When Department of Justice attorneys traveled to investigate a voter intimidation allegation against a black politician in Mississippi's Noxubee County in 2006, one civil rights staff attorney commented, "Can you believe we're going to Mississippi to protect white voters?"
To Christopher Coates, the former head of the Department of Justice's voting rights section, the comment was more than just an attempt at irony – it was evidence that something was going wrong in the department.
On Friday, Mr. Coates testified before the US Civil Rights Commission, a bipartisan oversight group, alleging that under President Obama, the dismissive attitude of that civil rights staff attorney toward white claims of disenfranchisement at the hands of blacks has essentially become Justice Department policy. He said he had seen evidence that Obama appointees in the Department of Justice had created a "hostile atmosphere" toward attorneys pushing to prosecute blacks for voting-rights violations – a charge the Justice Department denies.
---