Senate enters total gridlock as Election 2010 nears
Democrats failed to move forward on a bill that would have ended a tax break critics say rewards companies who send jobs abroad. Legislation is going nowhere ahead of Election 2010.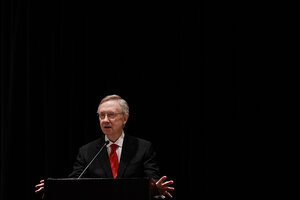 Julie Jacobson/AP/file
The Senate continued a pattern of symbolic votes and gridlock today, as Republicans voted unanimously to support a tax break critics say encourages the outsourcing of US jobs.
Four Democrats and one Independent joined 40 Republicans in voting down a move forward on the Creating American Jobs and Ending Offshoring Act, which fell seven votes short of the 60 needed to begin debate on the bill.
The measure, which would have ended a tax break for some businesses with overseas income, failed 53 to 45, with Sens. Max Baucus (D) of Montana, Ben Nelson (D) of Nebraska, Jon Tester (D) of Montana, Mark Warner (D) of Virginia, and Joseph Lieberman (I) of Connecticut voting with Republicans.
[Editor's Note: The original version misstated that Sen. Jim Webb (D) of Virginia voted with Republicans. Senator Warner did.]
---