John Boehner, would-be Speaker, pitches his roadmap to fix Congress
Rep. John Boehner, who would be first in line to become Speaker if Republicans retake the House in Election 2010, forwards his plan for how to curb spending and ease gridlock in Congress.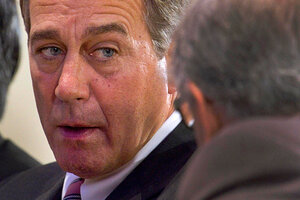 J. David Ake/AP
In a wide-ranging speech Thursday, House minority leader John Boehner (R) of Ohio said that the 111th Congress was "not so much concluding as it is collapsing," and signaled how Republicans would change the House if voters give them back the majority on Nov. 2.
Republicans have hunkered down in solid opposition to nearly all of the Obama agenda from health-care reform to climate change legislation. If Congress is broken, Democrats say, it's because Republicans won't let it work.
But Congressman Boehner – now in reach of becoming the next Speaker, if Republicans do as well in midterm elections as surveys suggest – is proposing a way to break the culture of gridlock and out-of-control spending that he says both parties have had a hand in creating.
"These wounds have been self-inflicted by both parties, and if we do not fix them, it's possible no one will," he told an audience at the American Enterprise Institute in Washington.
---