Rahm Emanuel: Will Blagojevich retrial mar his image?
When the Blagojevich retrial begins a month before Chicago's mayoral election, Rahm Emanuel's name is expected to appear prominently in testimony. That's posing a problem for his image-makers.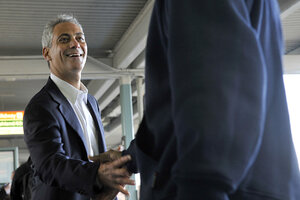 Brian Jackson/Chicago Sun-Times/AP
Rahm Emanuel stood on commuter train platforms here during the early morning rush hour Monday to shake hands, pose for pictures and talk with city residents, a preamble to his run to become Chicago's mayor.
The appearances were billed by his campaign as the start of a listening tour of the city, part of an effort to portray the former White House chief of staff as a candidate, and future mayor, who is responsive to voters and focused on the issues.
But come January, one month before the Feb. 22 election, a very different and less flattering image of Mr. Emanuel – that of a tough dealmaker in the bare-knuckle backrooms of Illinois politics – is expected to take center stage in testimony before a federal jury in Chicago, as the retrial of former Illinois Gov. Rod Blagojevich gets under way.
It is an image that his campaign is already trying to downplay, a challenge in the months ahead. Emanuel's name is expected to make many appearances during the retrial of Mr. Blagojevich, whose first trial on extortion, racketeering, and conspiracy charges ended in August and resulted in a hung jury on all but a single charge.
---