Does Pentagon trust Tom Donilon, new national security adviser?
Defense Secretary Robert Gates says he works well with new National Security Adviser Tom Donilon. But reports suggest there has been friction between Donilon and the Pentagon in the past.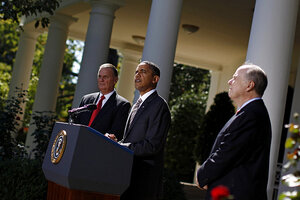 Jim Young/Reuters
The resignation of Gen. James Jones as national security adviser and his replacement with Tom Donilon marks the rise of someone who is already well known and respected within the White House.
Not only was Mr. Donilon Jones's deputy overseeing the White House national security staff, he is a longtime Washington insider who President Obama described Friday as "one of my closest advisers."
He has worked in the Carter and Clinton administrations as well as for Vice President Joe Biden when Mr. Biden was a senator. Donilon's wife is chief of staff for Jill Biden.
What is less clear, though, is how well he will get along with the uniformed military.
Jones is a retired commandant of the US Marine Corps and is held in high regard as a senior commander and combat veteran. Donilon has never served in the armed forces.
There's a risk that "the White House will have lost a credible voice with the US military in losing Jones," says Andrew Exum, a fellow with Center for a New American Security and a former US Army ranger.
---