Path to Chicago mayor's office clears for Rahm Emanuel
On Wednesday Cook County Sherriff Tom Dart said he would not run for Chicago mayor. He was considered the main challenger to Rahm Emanuel, the former Obama White House chief of staff.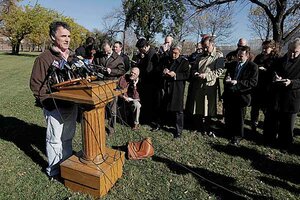 M. Spencer Green/AP
Cook County Sheriff Tom Dart on Wednesday announced he would not run for Chicago mayor, eliminating one of former White House Chief of Staff Rahm Emanuel's top competitors for the job.
Sheriff Dart was considered one of the most formidable candidates for the mayoral seat left open by current Mayor Richard M. Daley, who is stepping down after six terms. Unlike the remaining pool of challengers, Mr. Dart, who is white, has high approval ratings in the city's black and Latino communities. He is also well liked for the job he did as sheriff.
He grabbed national headlines for his decision not to carry out evictions against tenants who were unaware their landlord had suffered a foreclosure on the property.
Despite his own overtures on running for the mayoral office in recent weeks, Dart said on Wednesday that he did not want to compromise his family obligations. "I couldn't do both," he said at a news conference.
His departure leaves Mr. Emanuel dominating a slim field of candidates for the office, which includes former Chicago school board chief Gery Chico and Chicago City Clerk Miguel Del Valle. Emanuel's reported $1 million campaign fund and name recognition are both considered major advantages.
---