Oil spill panel: a push for subpoena power in Deepwater Horizon probe
Senate Republicans have blocked subpoena power for President Obama's oil spill commission. The commission's chief counsel will push for it again, arguing it's needed to learn the truth about the Deepwater Horizon rig.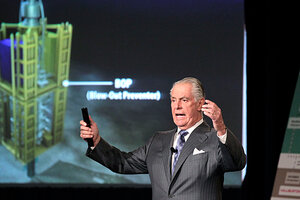 J. Scott Applewhite/AP
Fred Bartlit, chief counsel for President Obama's national oil spill commission, put pressure on congressional Republicans on Monday to allow the commission subpoena power in order to be able to tell Americans the full story of what happened to BP's Deepwater Horizon oil rig.
Chief counsel Bartlit's plea – "Subpoena, that's damn important" – pointed in part to the possibility that the spill commission may never resolve a fundamental question: How a band of experienced roughnecks on a muddy drill floor missed critical warning signs and failed to control a rush of oil and gas that hit the rig with the force of a 550-ton freight train.
But the subpoena issue, especially with Republicans vowing more government oversight from the newly captured House, may also be part of a political power play about where inquiry and blame should be focused: on private industry, or on the US government, as embodied by President Obama?
"To the sense that anyone is asking for subpoena power, that would mean there's potential that evidence weighs more heavily against some of the players than others," says Sean Cain, an assistant political science professor at Loyola University, in New Orleans. Republicans "say they want to use oversight authority to challenge the Obama administration, so perhaps opposition to subpoena power is intended as a way to allow the House more scrutiny on the president's and the federal bureaucracy's role rather than private companies with a history of support for Republicans."
---