Will tea party allies in Congress balk at international trade pacts?
As Obama presses for on a free-trade deal with Korea, where does the tea party stand? Polls say tea partyers do not favor trade pacts, but for many of their allies in Congress, it's a new issue.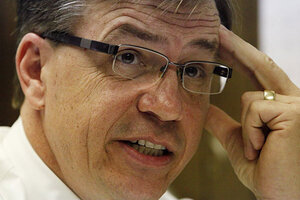 Charles Rex Arbogast/AP
Normally, a big Republican majority in Congress would bode well for free-trade pacts. Republicans, more than labor-union-backed Democrats, have typically been the promoters of international trade.
But these are not normal times. The new Republican majority, set to take office in January, was elected on a wave of populist tea party energy. Several dozen new members either come from the movement or were strongly supported by it. Some, in particular, represent parts of the country hit hard by the recession and struggling with a loss of manufacturing jobs.
So as President Obama seeks to nail down fixes to the long-stalled US-Korea Free Trade Agreement during his visit to Seoul, the question is, will the tea party influence in Congress help or hurt Mr. Obama's efforts to seal the deal on trade? Trade agreements require approval by both houses of Congress.
RELATED: Tea party Top 10 winners and losers
A new Pew Research Center poll contains some warning signs from rank-and-file Americans for Obama and the newly elected Republican majority in Congress.
"Republicans and Republican-leaning independents who agree with the tea party have a particularly negative view of the impact of free trade agreements," Pew reports.
---