Rahm Emanuel makes it official: He's running for Chicago mayor
After a "listening tour" of Chicago neighborhoods, former White House chief of staff Rahm Emanuel has officially announced his run for mayor. When two strong candidates dropped out, he became the apparent front-runner.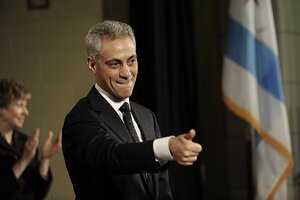 Paul Beaty/AP
Rahm Emanuel made his candidacy in the mayor of Chicago official Saturday during a speech at a North Side elementary school gymnasium in which he emphasized his local roots, an issue that has already been a target among his opposition.
"Chicago is where I was born and where my children were raised. They are the fourth generation of my family to live here," said the former White House Chief of Staff. "Only the opportunity to help President Obama … could have pried me away."
Mr. Emanuel spent five weeks on a self-proclaimed "listening tour" in which he visited "L" stops during morning and afternoon commutes, and he shook hands at senior centers, bowling alleys, and schools throughout the city. Despite not officially announcing his candidacy until Saturday, he has been treated like a front-runner against the competition, although his lead has shrunk since he began campaigning.
The moment current Mayor Richard M. Daley announced he would not seek reelection, dozens of local aldermen, political and community leaders jumped into the candidate pool.
Two strong candidates dropped out
---