Health-care reform in GOP cross hairs
Republicans plan an all-out assault on the new health-care reform law, which they see as the biggest symbol of over-reach by Democrats. President Obama's veto pen is the first defense.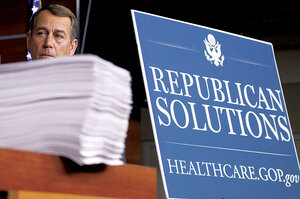 Harry Hamburg/AP/File
After an arduous drive to pass health-care reform, President Obama and the now-depleted Democratic ranks on Capitol Hill are bracing to defend their legacy.
The ultimate defense is the presidential veto pen. Even with a new majority in the House come January, Republicans concede that winning a repeal vote in the Democratic-controlled Senate is unlikely – and the two-thirds needed to override a presidential veto, well out of reach.
But Republicans say they'll seek every opportunity to repeal the new law and, failing that, to defund it or delay its implementation.
"If all of ObamaCare cannot be immediately repealed, then it is my intention to begin repealing it piece by piece, blocking funding for its implementation, and blocking the issuance of the regulations necessary to implement it," said Rep. Eric Cantor (R) of Virginia, in a 22-page letter to GOP colleagues in his campaign for majority leader after the Nov. 2 vote. "In short, it is my intention to use every tool at my disposal to achieve full repeal of ObamaCare."
No legislation more symbolizes what Republicans – and especially the conservative tea party movement – dubbed the overreach of an out-of-touch Democratic majority. Repeal would be a key vote for an insurgent freshman class eager to demonstrate that the 2010 election is producing change in Washington.
---