How tea party senators stared down Mitch McConnell on earmark ban
Pressure from tea party-backed Republican freshmen senators led Senate minority leader Mitch McConnell to reverse course: He said Monday he would back an earmark ban.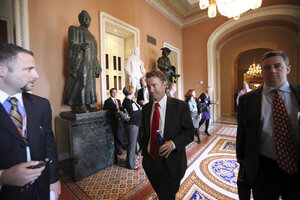 Harry Hamburg/AP
In a surprise reversal, Senate Republican leader Mitch McConnell (R) of Kentucky announced today that he will join House GOP leaders in voting to ban "earmarks" – member projects often criticized as pork barrel spending – thus avoiding an early clash with tea party freshmen committed to ending the practice.
The issue was seen as a litmus test of how far the Republican leadership would go to satisfy freshmen lawmakers and the tea party movement that propelled some of them to victory. In the past, Senate Republicans have defended their right to use earmarks, but the process has been a primary tea party complaint.
Senator McConnell's decision suggests that, in Round 1 at least, the GOP establishment blinked first.
"I know the good that has come from the projects I have helped support throughout my state. I don't apologize for them," McConnell said at the opening of a lame duck session of Congress on Monday. "But there is simply no doubt that the abuse of this practice has caused Americans to view it as a symbol of the waste and the out-of-control spending that every Republican in Washington is determined to fight."
"And unless people like me show the American people that we're willing to follow through on small or even symbolic things, we risk losing them on our broader efforts to cut spending and rein in government," he added.
Freshmen flex muscles
The move came on the eve of a Senate Republican caucus vote on Tuesday that was shaping up as an early test of the clout the 16-member GOP freshmen class – the largest class for Republicans since 1980.
---