Earmark ban: Common sense budget reform or 'tremendous step backwards'?
Senate Republicans decide to swear off earmarks. Now, they will try to persuade the Democrats to do the same. But many Democrats – and some Republicans, too – are wary.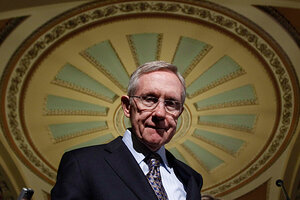 Jim Young/Reuters
Backed by a robust freshman class, Senate Republicans Tuesday laid out a reform agenda for the 112th Congress Tuesday that included a ban on earmarks, a restriction that senior GOP leaders had long opposed.
In a closed session late in the day, Republicans approved a resolution to ban the earmarks, member projects criticized as pork-barrel spending, for two years. Other resolutions, also nonbinding, included a moratorium on new unfunded mandates or entitlement programs, a federal hiring freeze on non-security employees, a return of unspent stimulus funds to the Treasury, and a cap on discretionary spending at FY 2008 levels.
Senate's 16 new members arrive on Capitol Hill: Who are they?
"It's a good way to start out united as a party," said Sen. Jim DeMint (R) of South Carolina, a leader of the tea party movement and an outspoken critic of earmarking. "But there are thousands of earmark lobbyists in Washington looking for ways to get around this."
---
Follow Stories Like This
Get the Monitor stories you care about delivered to your inbox.