The John F. Kennedy assassination: Four unanswered questions
The Kennedy assassination, a pivotal moment in American life, has fascinated historians, conspiracy theorists, and filmmakers, among others. Some questions might never be answered.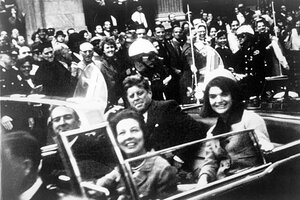 World History Archive/Newscom
Forty-seven years ago today President John F. Kennedy was assassinated in Dallas. It was an event of only a few seconds, but it was a hinge of history, something of such political and cultural importance that at dusk on Nov. 22, 1963, America was a different country than it had been at sunrise.
Sheer shock was part of it. Almost everyone past preschool age at the time can say where they were when they heard the news, as today a new generation will always remember what they were doing on Sept. 11, 2001.
Given its importance, the Kennedy assassination over the generations has been a subject of unending fascination to historians, filmmakers, novelists, conspiracy theorists, and ordinary citizens alike. Notable works range from director Oliver Stone's "JFK," a dense, purposely chaotic take that depicts the assassination as the work of a conspiracy, to attorney Vincent Bugliosi's 2007 book "Reclaiming History," a massive book of over 2,000 pages that attempts not just to refute conspiracy theorists, but to mock them, so that no one will take them seriously again.
---