Congress eyes DREAM Act: Fair to illegal immigrants or back-door amnesty?
Senate majority leader Harry Reid has said he will take up the DREAM Act next week. The bill would open a path to citizenship for some young illegal immigrants.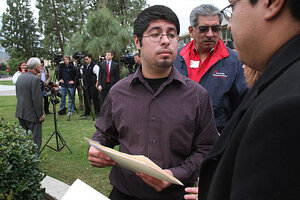 Newscom
If compelling human stories counted as votes, the DREAM Act would breeze through the lame-duck session of Congress, which resumes on Monday.
Take Pedro Ramirez, the student body president at California State University, Fresno, whose illegal status recently was leaked by an anonymous tipper. In response, hundreds of Fresno State students rallied to support him last week.
"It's time to pass the DREAM Act," said university President John Welty, who urged students to call members of Congress.
RELATED: Top 10 benefits of a college degree
The Development, Relief and Education for Alien Minors Act, first introduced in August 2001, creates a path to citizenship for children under the age of 16 brought to the US illegally and who attend college or have joined the military. It's a top priority of Senate Democrats in the waning days of the 111th Congress. Senate majority leader Harry Reid of Nevada says he will take the measure to the floor as early as next week.
---