How earmark ban is already changing Capitol Hill
In many ways, the Republicans' voluntary two-year earmark ban is limited in scope. But it's already undermining Congress's spending 'cardinals' and changing how lobbyists lobby Capitol Hill.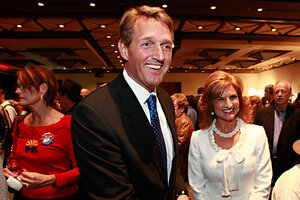 Matt York/AP/file
The freshly minted Republican ban on earmarks is already having an outsize impact on the culture of spending in Washington.
It is forcing lobbyists to reconsider how they do business. It seems certain to give members more opportunity to scrutinize federal spending. And it has turned what has long been Congress's most influential and sought-after post – a spot on the Appropriations Committee, which controls Congress's purse strings – into a poisonous assignment for many members.
Strictly speaking, the ban might have little effect on the federal budget's bottom line: Earmarks – projects mandated by members and often derided as pork-barrel spending – amount to less than 1 percent of federal spending. Moreover, the ban does not extend to Democrats, who still control the Senate.
But the tone on Capitol Hill has shifted noticeably since Nov. 2, suggesting that the overriding message of Election 2010 – federal fiscal discipline – is being heard, for now at least. And that, some hope, could have a deeper effect on federal spending.
The decline in interest in serving on the Appropriations Committee is perhaps the most obscure change to Americans outside the Beltway, but within Washington, it is a remarkable reversal of business as usual.
---
Follow Stories Like This
Get the Monitor stories you care about delivered to your inbox.