Federal pay freeze: why Obama is following path trod by states, businesses now
Obama's proposed federal pay freeze is an idea whose time has come to a sector whose turn has come. It's also a nod to the GOP and recognition that deficit-cutting is a priority for the public.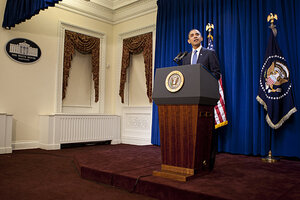 Andrew Harrer/UPI/Newscom
President Obama's proposed pay freeze for federal workers underlines a message that was already signaled in national elections this month: Leaner times are coming to Washington.
In a way, federal workers are the last to be hit by the aftershocks of America's deepest recession since the 1930s. Private-sector companies took emergency cost-control measures during the recession. State and local governments have been similarly cutting costs – including with freezes on hiring and pay raises.
IN PICTURES: Inside President Obama's White House
Why is Mr. Obama calling for pay restraint now?
The president's proposed two-year freeze, which would require congressional approval and would not affect the military, reflects a shift in political and economic conditions:
• A changed public mood. When Obama took office, the obvious imperative was to stop a freefall in the economy, and economists were widely calling for federal stimulus spending at a time when the private sector was spending less. By this fall, as congressional elections rolled around, the public mood had shifted considerably, with curbing deficits outweiging stimulus as a priority.
• A natural cycle. It's not unusual for private-sector employers and consumers to feel the pinch of a recession first, while the impact on the federal government is delayed. Congress sets budgets on a slower timetable, and the Treasury's ability to borrow cushions Washington from the impact of falling tax revenues.
---