Obama proposes federal pay freeze to help get deficit 'under control'
President Obama says the proposed federal pay freeze would save the federal government $2 billion in fiscal year 2011. The federal deficit is expected to be about $1.3 trillion.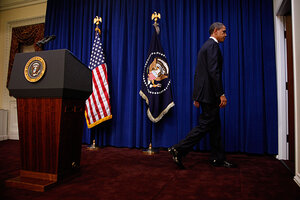 Jason Reed/Reuters
In a gesture of concern over the nation's massive budget deficit, President Obama proposed Monday a pay freeze for civilian federal workers over the next two years.
The move, which requires congressional action to implement, would save the federal government $2 billion for the remainder of fiscal year 2011, which began Oct. 1, $5 billion over two years, and $28 billion in cumulative savings over the next five years, according to the White House. The federal deficit for FY 2011 alone is expected to approach $1.3 trillion.
In midday White House remarks, Mr. Obama couched the plan in the context of the nation's larger fiscal challenges.
"The hard truth is that getting this deficit under control is going to require some broad sacrifice, and that sacrifice must be shared by the employees of the federal government," Obama said. "After all, small businesses and families are tightening their belts. The government should too."
Civilian federal pay has become a political football in recent weeks. Democrats wanted to vote in a 1.4 percent pay increase for the 2.1 million-strong federal work force during the lame duck session of Congress. But the Republicans, who take control of the House in January, have other ideas.
---