'There oughta be a law' movement lets fed-up citizens write their own laws
Politicians in several states collect suggestions that they take before their fellow lawmakers. Some suggestions have succeeded in becoming law.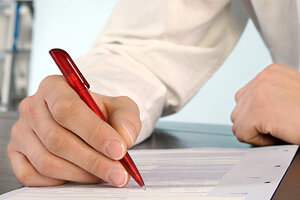 Photo Illustration/Newscom
While Democrats and Republicans are at odds and polls expressing historic voter dissatisfaction, disgruntled voters in a handful of states now an outlet that could channel that populist anger into real-world solutions, say several political analysts.
The idea is called the "there oughta be a law" contest, in which citizens send ideas for new laws to lawmakers who then bring them before state legislatures. The movement began in California in 2001 and has now grown to about half a dozen incarnations from California to New York.
Used by high school government class teachers for years, the idea of "do it yourself" legislation was formally introduced by California State Sen. Joe Simitian nine years ago, when he began his contest named after a popular 1930s and 1940s comic strip.
The first year was so successful – 100 proposals yielded two ideas that are now law – that Senator Simitian made the contest an annual event. Simitian's idea has generated 16 pieces of real-world legislation. Now, in its latest incarnation, Assemblyman Jerry Hill is launching his own "there oughta be a law" competition Monday, for residents of his 19th Assembly District Monday. From now through New Years Day, constituents can submit ideas via e-mail or snail mail. Simitian closed his contest Nov. 24.
Political scientists say the program encourages an active citizenry. "It is good. Civics 101. Get district constituents engaged in government," says Barbara O'Connor, director of the Institute for Study of Politics and Media at California State University, Sacramento. While acknowledging the contest is "a media attention-getter," Ms. O'Connor says "whatever helps reengage the citizenry is a good thing. Let them vote on which bill they will all support. Direct democracy is how we started."
---