National debt: Will anyone buy Obama panel's bold plan?
Erskine Bowles and Alan Simpson, who chair Obama's commission on reducing the national debt, delay a key vote. It's an indication how elusive consensus will be on cutting the deficit.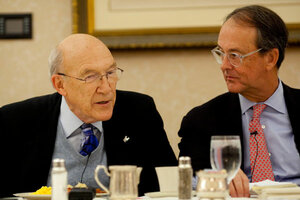 Michael Bonfigli/The Christian Science Monitor
The co-chairmen of President Obama's fiscal commission have agreed to a bold plan to slash federal deficits and put America's fiscal house in order. The problem is they're not sure if the rest of the bipartisan commission – let alone Congress – will sign on.
Erskine Bowles and Alan Simpson said Tuesday that a final set of recommendations is ready for the full commission to review. They said the deadline for a vote by the 18-member body is shifting to Friday, rather than Wednesday, however, to give members time to review the proposal.
"We'll get somewhere between two and 14 votes," said Mr. Bowles, a former chief of staff to President Bill Clinton. Two is a reference to himself and Mr. Simpson, a former Republican senator from Wyoming. Fourteen refers to the number of commission members who must approve the package of spending cuts and tax reforms in order to formally issue a final report to the president.
Ahead of the delayed vote, Bowles also sought to frame the panel's work as a success whatever the outcome.
"I think we've won, and we've won big," he said. "The era of deficit denial in Washington is over."
It is true that fiscal reform ranks as a rising voter priority. At the same time, however, the difficulties of winning agreement among the panel's bipartisan members signal how hard it will be to build consensus among US voters for significant fiscal reforms.
---