Who will get Bush tax cuts? Congress can't decide.
Unable to agree on who should be eligible to continue to receive the Bush tax cuts, which expire Jan. 1, President Obama and congressional leaders decided to convene a panel Tuesday.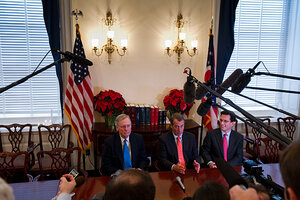 Scott J. Ferrell/Congressional Quarterly/Newscom
President Obama and congressional leaders on Tuesday tasked a six-man panel with finding a compromise on extension of the Bush tax cuts.
The president met with congressional leaders of both parties in a gathering Mr. Obama called "productive," and Republican leaders called "frank." There was no deal on the Bush-era tax cuts – which Republicans want to extend for all families and Obama wants to extend only for families making less than 250,000.
But both sides committed to extending at least some of the Bush-era tax cuts before the 111th Congress winds down in December.
Two Democrats and two Republicans – one each from the House and Senate – will join Treasury Secretary Timothy Geithner and Jacob Lew, who directs the White House Office of Management and Budget, to "break the logjam," Obama said.
---
Follow Stories Like This
Get the Monitor stories you care about delivered to your inbox.