Unemployment benefits: not until Bush tax cuts pass, Senate GOP says
Senate Republicans pledge not to take up any issues, including extending unemployment benefits, until the Bush tax cuts and federal spending bills are sorted out.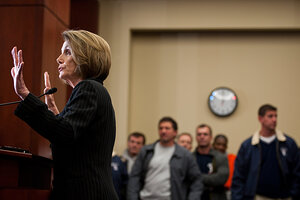 Bill Clark/Roll Call/Newscom
The lame-duck Congress, mired in a partisan clash over taxes and spending and preoccupied with a battle over extending the Bush tax cuts, refused Wednesday to restore federal financing of extended unemployment benefits, which had lapsed overnight.
The inaction means the imminent loss of unemployment compensation for some 800,000 out-of-work Americans, with nearly 2 million long-term unemployed expected to be affected by Jan. 1, according to the Labor Department.
US Labor Secretary Hilda Solis, speaking Wednesday at a press conference organized by Democratic congressional leaders, said that by next spring, another 6 million unemployed workers will lose benefits if Congress does not act. "Millions of families are going to struggle to put food on the table or put gas in the gas tank," she said.
The press conference at the Capitol's Visitors Center had the trappings of a rally, with scores of unemployed workers from around the country in attendance.
Belt-tightening for Mary Williams
Mary Williams, a mental-health counselor from Philadelphia who has been out of work for seven months and lost her unemployment coverage with the overnight lapse in funding, was in the crowd.
Congress's failure to act means even more belt-tightening, Ms. Williams says. "I try to take care of a roof, food, and the car I need to go from place to place to find jobs," she says. "It's choosing what's most important – the basic necessities."
---