House votes to keep tax cut for 'middle class' only. Republicans fume.
The House approved a measure to extend the Bush-era tax cuts to the middle class – those with income less than $250,000. The final tax-cut plan, though, will be fashioned in the Senate.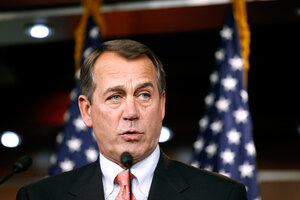 Harry Hamburg/AP
Just three days after the White House established a bipartisan team to find a compromise on renewing the Bush-era tax cuts, House Democrats pushed through a measure that extended the cuts only to the "middle class" – households with annual income less than $250,000.
It was a toxic vote for Republicans, who are holding out to extend the Bush tax cuts to high-earners as well, at least temporarily. To defeat the $250,000 cap, House Republicans had to vote against extending taxes for the vast majority of American taxpayers – a vote that could come back to haunt them in opposition campaign ads.
Republican leader John Boehner of Ohio dubbed the move "chicken crap" and "nonsense." "We're 23 months from the next election, and the political games have already started, trying to set up the next election," he said.
In the end, all but three Republicans voted against the bill – and the GOP picked up some Democratic support for its position as the House leaders struggled to hold their caucus together. Thirty-three Democrats joined all Republicans in opposing a procedural vote to get to this bill, and 20 voted against the bill in the final vote. The measure passed 234-188. The real work on the tax-cut legislation will be done in the Senate.
---