Mortgage interest deduction: Can US debt panel keep it on the chopping block?
The mortgage interest tax deduction is cherished by many Americans as the path to homeownership. But the co-chairmen of the US debt panel say it should be rolled back.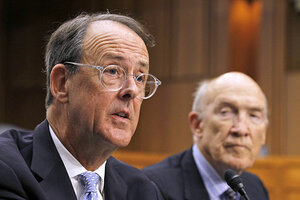 Alex Brandon/AP
Most people getting ready to buy a home have done the drill, totaling their monthly payments to see if they could afford to borrow enough money to buy the house they want.
But, while doing that calculation they often are reminded by their real estate broker: you can probably afford more than you think because the tax law gives you a mortgage interest deduction. That might allow you to adjust your income tax exemptions, giving you more take-home pay.
However, on Wednesday, as part of a broad effort to rein in the nation's ballooning debt, the co-chairmen of the National Commission on Fiscal Responsibility and Reform, a bipartisan panel appointed by President Obama, proposed rolling back that deduction. The proposal would give homeowners a flat 12 percent deduction for mortgage interest, as opposed to a deduction defined by their income tax bracket.
In addition, the co-chairs, Alan Simpson and Erskine Bowles, proposed capping the size of the mortgages eligible for the subsidy at $500,000 instead of the current $1.1 million. And, they would completely eliminate second homes from mortgage interest deductibility.
The current deduction is now the second most expensive tax subsidy, expected to cost the US Treasury $104 billion in 2011. Many economists and budget watchers have long viewed it as a form of wealth transfer to the rich, since they benefit the most.
---