With censure, Charles Rangel joins infamous list in history of Congress
Rep. Charles Rangel becomes the 23rd member of the House to be censured, Congress's harshest punishment short of expulsion. The vote in favor of censure was 333 to 79.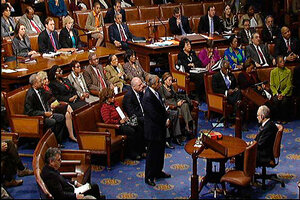 House Television/AP
In a rare move, the House on Thursday voted, 333 to 79, to censure 15-term Rep. Charles Rangel (D) of New York for 11 ethics violations ranging from failure to disclose income to violating House gift bans.
In a solemn moment, Mr. Rangel stood silently, as Speaker Nancy Pelosi, looking anguished, read out the 11-line censure resolution, the first delivered in this chamber in 27 years. Rangel became the 23rd congressman in the history of the House to be censured.
The vote requires Rangel, former chair of the powerful Ways and Means Committee, to pay restitution for any unpaid estimated taxes on income from properties in the Dominican Republic and to provide proof of payment to the ethics panel.
Censure is the strongest congressional disciplinary action short of expulsion. It has been used in the past to sanction members for assault on another member (1856), treasonous conduct (1864), selling military academy appointments (1870), bribery (1973), payroll fraud (1979) and, most recently, sexual misconduct with House pages (1983).
"The decision to recommend [censure] was not made lightly," says ethics panel chair Zoe Lofgren (D) of California. "It brought discredit to the House when this member, with great responsibility for tax policy, did not pay his taxes for many years," she added. "We follow precedent, but we also set it.
Rangel urged House members to reject censure in favor of the lesser punishment of a reprimand, which could have been delivered privately or in a letter. "I have made serious mistakes," he said in a statement before the vote. "I brought it on myself, but I still believe that this body has to be guided by fairness."
---