Bush tax cuts: why Democrats are planning two votes they know will fail
Senate Democrats are planning for two votes on the Bush tax cuts Saturday. But neither would extend all the Bush tax cuts, and Republicans have vowed to defeat any such proposals.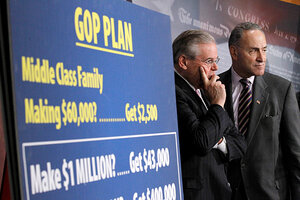 Alex Brandon/AP
To get to a deal on expiring Bush-era tax cuts – and to extended unemployment insurance for some 2 million Americans – Senate Democrats are making lawmakers run a legislative gantlet Saturday.
One vote will be on whether to extend tax cuts only for families with incomes up to $250,000. The House on Thursday passed a similar measure, 234 to 188.
The second vote, proposed by Sen. Charles Schumer (D) of New York, would extend tax breaks for families making up to $1 million.
Neither is expected to get the 60 votes needed to avoid a filibuster, because Republicans have vowed to back legislation only if it extends tax cuts for all income levels. But the real hope for the two bills is not passage, but political gain.
In the end, the Republicans look certain to get what they want – extension of all the Bush tax cuts. While they will remain the minority when the new Senate convenes next year, Republicans will gain six seats, meaning Democrats will need to compromise to get anything done.
But Saturday, Democrats want to force Republicans to vote against bills that would extend tax cuts to the vast majority of Americans, solely because Republicans want to preserve tax cuts for top income earners. In this way, Democrats hope to make Republicans – especially senators facing voters in 2012 – pay a political cost.
Masters of the procedural dance
"Democrats' priorities are clear: We're protecting middle-class families every way we can. Tomorrow's votes will show where the Republicans' priorities are," said Senate majority leader Harry Reid in a floor speech on Friday.
"These votes will very clearly demonstrate who supports the middle class," he added. "They can pretend we can afford to give billionaires another handout, even though we know we can't."
---