Is deficit commission wrong? Critics say there's no national debt crisis.
President Obama's deficit commission says the national debt requires urgent action. But economists are split on that basic premise.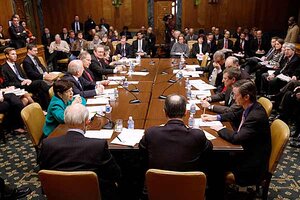 Harry Hamburg/AP
Whatever their disagreements, members of President Obama's fiscal reform commission rallied around a basic premise: America's public debt problem is serious, and the need for action is urgent.
But is that premise true?
It's actually a matter of sharp debate among economists, with some prominent Nobel Prize winners arguing for higher federal deficits – as a means of stimulating economic growth – rather than for quick steps on deficit reduction. Even Federal Reserve Chairman Ben Bernanke appears sympathetic to this position.
This view, of course, is politically at odds with the public mood of deficit anxiety that helped to sweep Republicans into greater power in elections a month ago.
But it could gain some traction in Washington due to weak job-market numbers released Friday. Unemployment rose to 9.8 percent nationwide, as the private sector added a lower-than-expected 50,000 jobs in November, the Labor Department said.
Whoever is right, the debate over stimulus and debt reduction is important at a time when Congress is grappling with these issues.
Lawmakers will soon consider the fiscal commission's blueprint on national debt and they are already in talks regarding stimulative fiscal policies such as extending both the Bush tax cuts and benefits for the unemployed.
---