Jerry Brown gives California lawmakers budget warning: brace yourself
Gov.-elect Jerry Brown serves notice that he is serious about addressing California's chronic budget crisis, gathering state lawmakers to impress upon them the depth of the problem.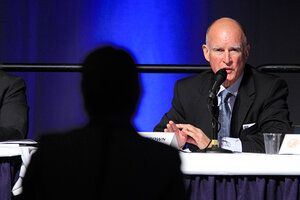 Rich Pedroncelli/AP
Gov.-elect Jerry Brown took the unusual step Wednesday morning of convening a town-hall-type summit of lawmakers three weeks before he actually takes office. The subject was the California budget crisis, and the the takeaway was, "You ain't seen nothin' yet."
California budget battles have become part farce, part tragedy in recent years as lawmakers repeatedly miss deadlines and pass budgets that paper over the structural flaws that lead to chronic deficits.
That ends now, was Mr. Brown's message in a gathering that seemed aimed at steeling lawmakers for a virtual budget apocalypse.
Others have made the claim before, but Brown has one thing going for him: a level of political savvy that his recent predecessors have lacked. He has already been governor of California from 1975 to 1983, which means "we will see much more sophisticated gamesmanship than" Gov. Arnold Schwarzenegger, says Joel Kotkin, a California political expert at Chapman University. "People may not like him, but they respect him, and they didn't respect Arnold."
On Wednesday, Brown came armed with charts and experts on the dais, mounting a sobering slide show to demonstrate the severity and singularity of the state's $25 billion budget shortfall. He claimed that this is unlike any recession in California history and sought to convince lawmakers that all the solutions – both stopgap and structural – that they have thrown against this mounting problem in past years will no longer fill the gap.
Brown's team of analysts indicated that cuts to prisons and the once-vaunted state school system would need to be deep. And that there is no single solution.
---