Last governor's race finally settled: Mark Dayton wins Minnesota
Democrat Mark Dayton topped Republican Tom Emmer by 9,000 votes on Nov. 2, but Emmer insisted on contesting the result. Peculiar Minnesota laws allowed his challenge.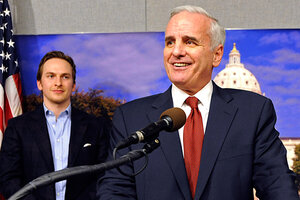 Craig Lassig/AP
Minnesota finally has a governor, but like many races in the state, it wasn't without a fight.
Republican candidate Tom Emmer conceded the race to his Democratic opponent, Mark Dayton, Wednesday, ending a contentious legal battle that left residents without knowing who would succeed current Gov. Tim Pawlenty (R) five weeks after the Nov. 2 election.
With Mr. Emmer's concession, Mr. Dayton is now the first Minnesota's first Democratic governor in two decades. Out of 2.1 million ballots cast, he won by 0.4 points – 43.6 to 43.2 percent – a 9,000-vote margin.
Despite Dayton's relatively generous lead, Emmer, a state representative, pressed on with his recount challenge. Waiting for a victor is nothing new for Minnesota voters thanks to a state law that mandates an automatic recount in any election that is settled by 0.5 percentage points or less. Challengers are allowed to contest outcomes through a three-step process: the recount, contesting the election, and an appeal to the Minnesota Supreme Court.
Determining the outcome in some cases can take months, as was proved in 2008 in what many say was the tightest election in Minnesota history, the US Senate race between incumbent Republican Norm Coleman and Democratic challenger Al Franken. Despite winning a ballot recount in January by 225 votes, Mr. Franklin could not claim his seat until June, because of legal challenges.
---