'Don't ask, don't tell': repeal thrown into doubt by Senate vote
By blocking a repeal of 'don't ask, don't tell,' Senate Republicans have not killed the issue for good. But it is a major blow that Democrats could have difficulty overcoming.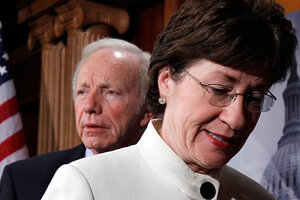 Harry Hamburg/AP
Senate Republicans blocked what might have been a last-ditch effort to repeal "don't ask, don't tell" before next year, when any effort to repeal the law is expected to become substantially more difficult.
President Obama called on Senators to keep fighting this year to repeal "don't ask, don't tell," which bans openly gay Americans from serving in the military. Proponents of repeal are considering decoupling "don't ask, don't tell" from the defense authorization bill and offering it as a bill of its own.
But time is against Senate Democrats and their leader, Harry Reid.
At the moment, Democrats need the help of only two Republicans to reach the 60 votes necessary to overcome a filibuster. Next month, when Senate Republicans add five members to their ranks from the midterm elections, the Democrats will need the help of at least seven Republicans.
---