House Democrats block GOP-Obama tax deal. Is it dead?
Many Democrats are angry with the GOP-Obama tax deal. They want to hold out for more GOP concessions. But the expectation is that the tax cuts will still pass, probably with some changes.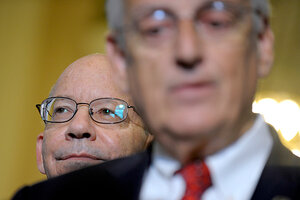 Susan Walsh/AP/file
House Democrats threw a monkey wrench into President Obama's tax cut compromise with Republicans Thursday, adopting a resolution that opposes the deal.
The resolution is nonbinding, but House Speaker Nancy Pelosi nevertheless will not bring the tax-cut agreement to the floor as is. The exact nature of any changes remains unclear, but House Democrats have made clear that they do not like the planned extension of Bush-era tax cuts for top earners and a restoration of the estate tax that exempts most people.
In the end, analysts expect a tax-cut deal to go through, likely with some changes aimed at satisfying Democrats, but with the bulk of the votes needed for passage coming from Republicans. Senate Democrats, largely supportive of the plan, are prepared to move on legislation as early as this weekend.
Time is of the essence, as the clock winds down on the lame-duck session of Congress. Absent legislation, taxes on all income brackets will rise on Jan. 1, and unemployment benefits will expire for 2 million jobless Americans.
In remarks Thursday in a meeting with the President's Export Council, President Obama urged Congress to move forward on "this essential priority."
---