Special interests aim to pile onto tax-cut deal, to retain tax credits
Wind power firms, makers of energy-efficient windows, duck hunters, and other special interests are pushing Congress to save – or shelve – some 83 expiring tax credits.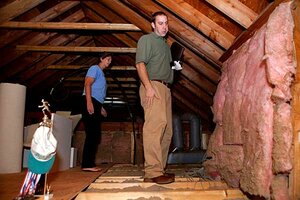 Melanie Stetson Freeman/Staff/File
President Obama and the Republicans may have made a deal to extend the Bush-era tax cuts for two years, but what about a little tax help for ducks?
And, since it's cold outside, how about some tax consideration for people who want to insulate their attics this winter?
Then, who can forget the importance of giving a tax break to the Champion family, who have lived on the same Vicksburg, Miss., farm for six generations? But it's not just any farm. It's where Ulysses Grant fought the battle of Champion Hill.
Congress may still resolve many of the big-ticket tax-cut items, but plenty of people and organizations are still lobbying Congress to remember them, as well. Almost all of these groups are scrambling to get Congress to renew one tax credit or another. In many cases, they are warning that failure to do so may result in thousands of layoffs.
"This is by the far the most tax uncertainty we have had at the end of the year since the income tax was instituted in 1913," says Pete Davis, a tax expert at Davis Capital Investment Ideas in Washington and an author of the blog Capital Gains and Games.
---