Bill Clinton's rebuke to Democrats: tax deal is 'best' Obama can get
Former President Bill Clinton came to the White House Friday to offer support for the GOP-Obama tax deal that has angered liberal Democrats.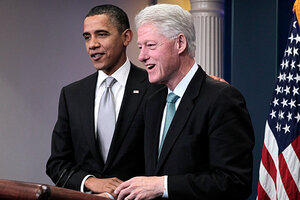 J. Scott Applewhite/AP
In an impromptu news conference Friday at the White House, former President Clinton strongly endorsed President Obama's controversial tax-cut deal.
Mr. Clinton told reporters that, after reviewing the agreement the president reached with Republicans earlier this week, he felt it was "the best bipartisan agreement we can reach to help the largest number of Americans" and maximize the chances the economic recovery will accelerate.
Mr. Obama had just met with Clinton privately in the Oval Office, and afterward the two men appeared, with little advance warning, in the White House briefing room. Obama introduced the former president, reiterated his defense of the tax cut agreement, stuck around for a while as Clinton spoke, then ducked out for the latest White House Christmas party.
Obama could not have asked for a more respected, popular emissary to the Democratic base, which has cried foul over several aspects of the agreement.
Liberal Democrats, including many members of Congress, object to the two-year extension of tax cuts for the wealthy and a restoration of the estate tax that exempts most Americans. Obama made those concessions to ensure middle-class Americans also got an extension of tax cuts and that unemployment benefits continued for another 13 months.
---