Will Obama's rift with the left matter?
The left is hopping mad, not just that Obama cut a tax-cut deal with Republicans, but that he didn't put up much of a fight. But the breach may help him woo back independent voters in time for the 2012 election.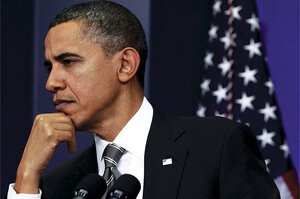 Jim Young/Reuters
Phase 2 of the Obama presidency has started in earnest.
The new Republican-dominated Congress won't be seated until January, but the reality of divided government has already hit home with President Obama's liberal base. Gone are the days when Mr. Obama and congressional Democrats could pass big bills with nary a Republican vote. Enter Obama the compromiser, a prospect that fills liberal legislators and activists with frustration. On Thursday, the deal sparked a full-blown revolt by House Democrats.
To the progressive activists who worked hard for his election two years ago, Obama's tax cut deal with Republicans came as a shock. Obama got two provisions he considered essential to the nation's economic recovery: an extension of the Bush-era tax cuts for the middle class and a 13-month extension of jobless benefits for millions of unemployed people. But in exchange he gave in on extending the Bush tax cuts for the wealthiest Americans, after pledging early and often during his campaign to end them. Democrats are also upset at the proposed new 35 percent estate tax, which would exempt inheritances of up to $5 million for individuals.
There's no doubt the left is angry – not just that he cut this deal, but that he caved without much of a fight. But will this breach with his base mortally wound his reelection campaign, or will it actually help him win in 2012, by helping him woo back independent voters who abandoned the Democrats in the midterms?
The bottom line is the economy, says Democratic pollster Peter Hart. If this deal helps stimulate growth and bring down the jobless rate, that will please voters.
---