Bloomberg for president? Nolabels.org could be just the vehicle.
New York's mayor is says he is not – 'no way, no how' – running for president. But his role in the nonpartisan political movement Nolabels.org raises speculation.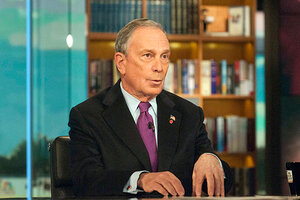 Stephen J. Boitano/NBC/Reuters
New York Mayor Michael Bloomberg insists he's not going to run for president in 2012.
"No way, no how," he said Sunday, when pushed by "Meet the Press" host David Gregory.
But Monday's launch of a new movement called Nolabels.org – an effort to get beyond the hyperpartisanship that infuses Washington – can't help but keep the "will Bloomberg run" question alive. The day-long rollout was held in New York City, and Mayor Bloomberg, a political independent, was a marquee participant. And Nolabels' centrist approach to policy fits his own message, laid out just last week in a campaign-style speech on the economy. The billionaire Bloomberg's willingness to self-fund as a politician has been amply demonstrated in his three successful runs for New York mayor, and he reportedly considered running for president in 2008.
Some media coverage has suggested that Nolabels could become a ready-made vehicle for a Bloomberg candidacy, should he decide to run. But people associated with the group insist there's no hidden Bloomberg agenda in the group's founding.
"This is not a Bloomberg organization; it was not conceived as such, and is not," says a Nolabels spokesman, speaking on background.
---