Michael Steele's surprise reelection bid complicates life for GOP
Republican Party chairman Michael Steele says he's running for reelection. Steele cites big GOP wins in the midterm elections, but his critics argue that gains could have been bigger without him.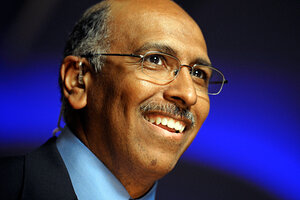 Cliff Owen/AP
That giant groaning sound you hear is Republicans reacting to the surprise news that Michael Steele is running for reelection as chairman of the Republican National Committee.
But not all Republicans. Mr. Steele, whose two-year tenure has been marked by mismanagement, gaffes, and fundraising woes, does have his allies among the RNC's 168 committee members – the group that will decide his fate next month. After all, he just presided over the biggest net gain in House seats for either party since the 1940s: 63 seats. The Republicans also gained seats in the Senate and are in strong position to take control of that body in two years. In state legislatures, the GOP gained more than 675 seats, far more than in the landslide of 1994.
"Most importantly, Steele wins," Idaho GOP chairman Norm Semanko said in a statement of support. He characterized Steele's problems as a conflict with the establishment wing of the Republican Party.
Steele, too, put forward his party's winning electoral record as he wooed RNC members.
"I come to my bosses with a record that only you can judge, based upon directions you made clear to me from the very beginning," Steele said in a message Monday night.
---