Tax-cut deal barely dents Obama's high support among liberals
Despite the anger expressed by House Democrats over Obama's tax-cut deal with Republicans, polls show his support among liberals is still very high and has dipped only slightly.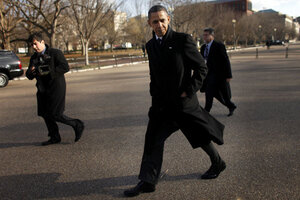 AP
President Obama remains highly popular among liberal Democrats, despite his tax cut compromise with Republicans that sparked a major upset on the left.
The latest ABC News/Washington Post poll shows Mr. Obama's job approval at 87 percent among self-identified liberal Democrats, slightly down from late October, and almost exactly where it was in early October. Gallup has also found noteworthy consistency in Obama's job approval overall for the past six months (in the mid 40s), and only a slight decrease among liberal Democrats in the past few weeks – a dip that started, in fact, before the tax deal.
The latest Gallup poll, taken Dec. 6-12, shows Obama with a 79 percent job-approval rating among liberal Democrats, down from 83 percent the previous week and 81 percent the week before. The tax deal, which included extension of the Bush tax cuts for two years, was announced on Dec. 6. In the preceding six months, Gallup showed Obama consistently in the mid to high 80s among liberal Democrats.
Bush tax cuts 101: Who will get what if Obama deal passes?
"Liberal support for the president has held up quite impressively," says Karlyn Bowman, a polling expert at the American Enterprise Institute. "Certainly there has been a very noisy group getting a lot of attention, but they may not be as representative of the base as they claim to be overall."
---