Obama tax deal: why estate tax is the new sticking point
House Democratic leaders set very tight rules for debate of the Obama tax deal Thursday, and rank-and-file Democrats revolted. Their main frustration now: the estate tax.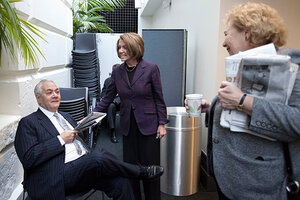 Harry Hamburg/AP
An $858 billion package to cut taxes and help the long-term unemployed was unexpectedly pulled from the House Thursday, suggesting that Democratic leaders underestimated the depth of opposition to the bill as well as the possibility that House members could amend it.
The development means Democratic leadership will have to work behind the scenes to shore up support for the package before bringing it back to the floor – a process that could take anywhere for a few hours to a few days, if possible.
Speaker Nancy Pelosi is faced with a delicate balancing act: President Obama has asked her to rally the House to pass the tax deal that satisfies neither party, and to pass it without changes. The Senate has already passed the deal he struck with Republican leaders, and Senate minority leader Mitch McConnell has said Senate Republicans will not accept any House amendments to the bill.
Seeking to navigate that difficult path, the House Rules Committee laid out strict rules for House debate on the tax deal Thursday: Only one amendment would be considered – to the estate tax portion of the deal.
But objections to these rules for debate from within Democratic ranks proved stronger than majority leaders had expected. One conservative Democrat, Rep. Gene Taylor (D) of Mississippi, went so far as to try to force the House to adjourn for 15 minutes – a move that is often used only when frustration reaches a breaking point.
---