Record-low support for Afghanistan war shows Obama's vulnerability
Opposition to the war in Afghanistan has Obama walking on eggshells with his Democratic base.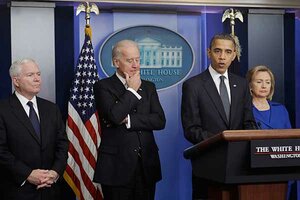 Charles Dharapak/AP
American public support for the US-led war in Afghanistan has reached a record low, according to the latest ABC News/Washington Post poll.
The poll, released Thursday, found a record 60 percent of Americans say the war has not been "worth fighting." Of those 60 percent, 43 percent feel that way "strongly," also a record for the ABC News/Washington Post poll. In all, 34 percent feel the war has been worth fighting, either strongly or somewhat.
The poll demonstrates the political risks to President Obama, whose administration released Thursday the one-year review of its revised strategy in Afghanistan. In remarks to reporters at the White House, Mr. Obama reported "significant progress" in the US-led effort's core goal, which is "disrupting, dismantling, and defeating al-Qaeda in Afghanistan and Pakistan and preventing its capacity to threaten America and our allies in the future." But Obama also called the gains "fragile."
Now the longest-running war in US history, launched soon after the terror attacks of Sept. 11, 2001, Afghanistan was bequeathed to Obama by his predecessor, President George W. Bush. But one year into the US-led "surge," which saw a boost of some 30,000 troops into Afghanistan, it's now Obama's war – with all the attendant political risks.
---
Follow Stories Like This
Get the Monitor stories you care about delivered to your inbox.