House passes bipartisan tax cut deal, first of Obama administration
Though many House Democrats balked at extending Bush-era tax cuts, House lawmakers late Thursday approved the $858 billion tax cut deal intact, with 139 Democrats and 138 Republicans.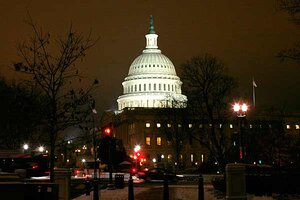 Hyungwon Kang/Reuters
Legislation that extends Bush-era tax cuts until 2012, ensures benefits for the unemployed for another 13 months, cuts what workers pay into Social Security by nearly a third for a year, and reins in taxes for business, investors, and heirs to estates – a.k.a. the Obama-Republican tax-cut compromise – cleared its last congressional hurdle Thursday and heads to the president's desk on Friday.
In addition to its practical implications for millions of American taxpayers, the bill marks the advent of a new dialogue between the White House and Republicans on Capitol Hill that, for the first time in the Obama presidency, left Democrats on the sidelines – a harsh new political reality for the outgoing House majority.
Though many liberal House Democrats balked – loudly and fervently – at legislation that would extend tax policy from the Bush years, in the end, House lawmakers late Thursday approved the $858 billion deal intact and on a rare bipartisan vote of 139 Democrats and 138 Republicans.
Indeed, passing the deal without changes represents a victory for Bush-era tax policy, which favored cutting taxes, rather than government spending, as the primary engine of growth. Democrats had campaigned in 2006, 2008, and 2010 to end tax breaks for the wealthiest Americans, on grounds the country could no longer afford them. House Republicans pledge to try to make deeper cuts in government in the next Congress, when they face a tough vote to raise the $14.3 trillion national debt limit as early as this spring.
---