DREAM Act for minors in the US illegally stopped in the Senate
The DREAM Act, which would have created a way to citizenship for children brought into the US illegally, failed in the Senate. Critics saw it as a costly path to amnesty for illegal immigrants.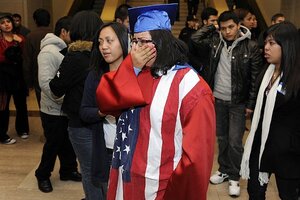 Jonathan Ernst/Reuters
The dream has died, at least for now.
That's the DREAM Act, which would have created a way to citizenship for young people who were brought into the United States illegally while minors.
The House had passed the bill, but on Saturday a Senate vote to cut off debate failed 55-41 on a largely party-line vote, essentially killing the legislation for this year. (Sixty votes were needed to end floor debate.) And with Republicans taking over the House and gaining seats in the Senate as a result of the recent midterm elections, prospects for the DREAM Act have dimmed considerably.
Quiz: Could you pass a US citizenship test?
In a statement, President Obama called it "an incredibly disappointing vote."
The Obama administration had pushed hard for the law – mainly as an education bill that would eventually bring economic benefits to the country.
First introduced ten years ago, the bill (whose full title is the Development, Relief and Education for Alien Minors Act) would have allowed minors in the US illegally to stay in the country temporarily if they were under the age of 30, had lived in the US continuously for at least five years, and had been brought to this country before they were 16 years old.
---