Obama invokes Reagan to push START nuclear arms treaty with Russia
Most national security experts and former arms control officials of both parties favor the START nuclear weapons treaty with Russia. But some Republicans are opposed, and it takes 67 votes.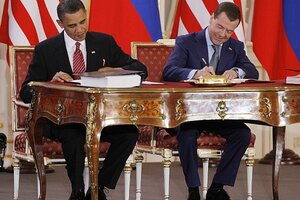 Jason Reed/Reuters
President Obama is invoking his inner Ronald Reagan to push for a new arms control treaty with Russia.
Will it work? Possibly, but it's an uphill sled.
On his side, Obama has the Pentagon, a wide range of national security experts from past administrations (Republican and Democrat), and both former presidents Bush. All have lined up behind what's called "New START" (Strategic Arms Reduction Treaty).
IN PICTURES: Who has nukes?
"Ratifying a treaty like START isn't about winning a victory for an administration or a political party," Obama said in his radio/Internet address Saturday. "It's about the safety and security of the United States of America."
"That's why this treaty is supported by both Presidents Bill Clinton and George H.W. Bush," he said. "That's why it's supported by every living Republican Secretary of State, our NATO allies, and the leadership of the United States military…. And that's why every President since Ronald Reagan has pursued a treaty like START, and every one that has been reviewed by the Senate has passed with strong bipartisan support."
---
Follow Stories Like This
Get the Monitor stories you care about delivered to your inbox.