Stopgap spending bill clears Congress. What happens next?
Passage of the spending bill, which goes to Obama for signing, averts a midnight government shutdown. It also leaves the bitter fight over spending to the next Congress.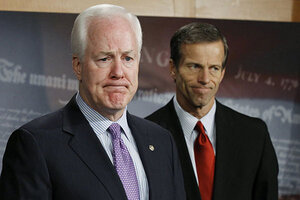 AP
In an 11th hour compromise, Congress passed a $250 billion measure Tuesday that extends government funding until March 4, averting a government shutdown at midnight. It now heads to the president's desk for his signature.
The spending bill maintains funding at 2010 levels for most government agencies, but includes a $460 million increase for veterans benefits as well as help with heating bills for low-income households. It passed the House 193 to 165, with Republicans voting nearly unanimously in opposition to protest what they see as excessive spending. The vote was more bipartisan in the Senate, where the measure passed 82 to 16.
In a rare occurrence, not a single one of 12 spending bills for the 2011 fiscal year, which began on Oct. 1, has yet to clear the Congress. The House passed just two of its annual spending bills. The Senate, struggling with intense partisan gridlock, passed none.
This week, the lame-duck Congress simply ran out of time. "At this late date, it's too late to argue. The die is cast," said Rep. David Obey (D) of Wisconsin, the outgoing chair of the House Appropriations Committee, who blamed Senate rules for grinding the budget and spending process to a halt this year with partisan filibusters.
As a result, "the early days of the next Congress will be unnecessarily controversial and partisan," he added.
Republicans, who take back control of the House on Jan. 5, have pledged to end earmarks and cut deficits and government spending. Senate Republicans rejected a one-year, continuing resolution, passed by the House. Last week, they also rejected a $1.1 trillion omnibus spending bill, worked out by Sen. Daniel Inouye (D) of Hawaii, the Appropriations Committee chair, and Senate majority leader Harry Reid.
---