GOP gets cold feet on ending bailout of Fannie Mae and Freddie Mac
Republicans want to privatize Fannie Mae and Freddie Mac, the mortgage giants at the heart of the financial meltdown. But bad news on house prices has them delaying grand plans.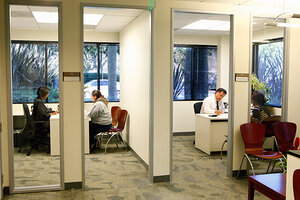 Damian Dovarganes/AP
A new drop in the housing market is giving Republicans pause on plans to privatize home mortgage giants Fannie Mae and Freddie Mae.
Throughout the financial reform debate in 2010, Republicans argued that majority Democrats should include Fannie and Freddie in the discussions, since the vast public-private entities securitized the mortgages that were at the epicenter of the crisis. Republicans pledged to end the taxpayer bailout of Fannie and Freddie.
With Republicans taking control of the House next year, privatizing Fannie and Freddie is still a top priority, but the timetable is slipping. Standard & Poor's Case-Shiller Home Price Index, released Tuesday, showed that home prices fell in all 20 metro areas surveyed, wiping out nearly all the gains from the $8,000 federal tax credit for first-time home buyers, which expired on April 30.
The Republican set to chair a key finance panel says that the risk of a new shock to fragile housing markets is forcing a delay of at least a year.
---